Note: some of this might be edited eventually. Most likely a matter of clarifications.
Alrightie, i'm not the kind that likes to stand in front of a class of 2 or 200 or 2000 people, so i'll try to explain this as easy as I can and get you right in the game. I've taken screenshots of most of the familar options you WILL be encountering, with simple instructions below. This might be long and drawn out, so i'm typing as little as i can. So hurry up and get moving (and stop multitasking with domo...Oop there you go, you just let someone die because you're still here)
========================================
Short Story: download here:
Code:

http://tinyurl.com/natsafk
extract somewhere (it's all one package that can load up on that folder)
choose some options, either fullscreen or no-fullscreen (window)
get into game
go to Options
--change video size (if needed)
--change controls (yeah you WILL want to look at this at least)
--change player setup (if needed)
go to console
type in
Code:

connect fierce.dynalias.net:10666
and start playing.
========================================
Long story: see the screenshots and explanations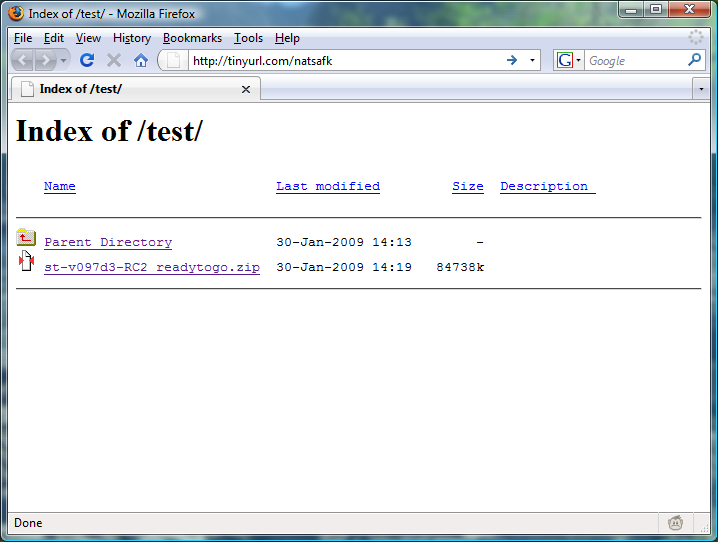 Code:

http://tinyurl.com/natsafk
• This link is what you'll need to download the Doom2 program.
Note:
This is ALL you need, it's got the Doom games, Hexen / Heretic, and the multiplayer contents you'll need to get right into deathmatching.
Note 2:
I'm on Vista. I'll be doing my testing ON Vista. Your XP windows may be VERY CLOSE if not similar to the screenies i'm going to show.
• Once you extracted the entire zip file
(most of you are on Windows, either you got a special program of your own or you're using Windows' self-zip extractor)
You'll come across all of these files. The ones you will mostly pay attention to (until further notice) are SkullTag (and possibly IdeSE).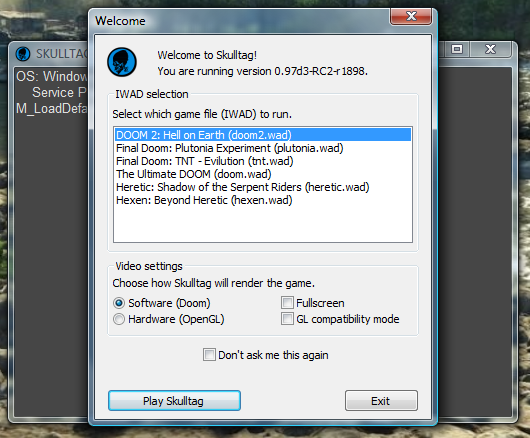 • When you run Skulltag for the first time, this message pops up. Already there's a few options to consider; what game you wanna play, to what kind of rendering you want to use, to either fullscreen and compatibility mode, and whether or not you want this particular pop-up to show every time.
The difference between the software and hardware options is most particularly based on your immediate settings AND on your video card. (i think) Software takes on the original Doom2 (or game specified) loading capabilities, while Hardware / OpenGL uses whatever DirectX you have right now i.e. today's standard for a yesterday's game. Using Hardware does benefit us now because of Skulltag's additional Doom2 (or whatever game) but i would watch out in case it glitches up your graphics card.
I like having this Welcome window showing up every time, in the event that I wanna play with different options (and if i need to test rendering options). I ~think~ Raie has an alternate method to get into the game, from the other files that you saw in the last screenshot. Also on the Welcome screen, you will notice for the first time that "Fullscreen" is checkmarked upon startup. I liked fullscreen and i didn't like it, but i keep it off so i can keep being alert on other screenies. Also, i chose to Ask Me Again (i unchecked the "Don't Ask Me Again") so i can come back to this window.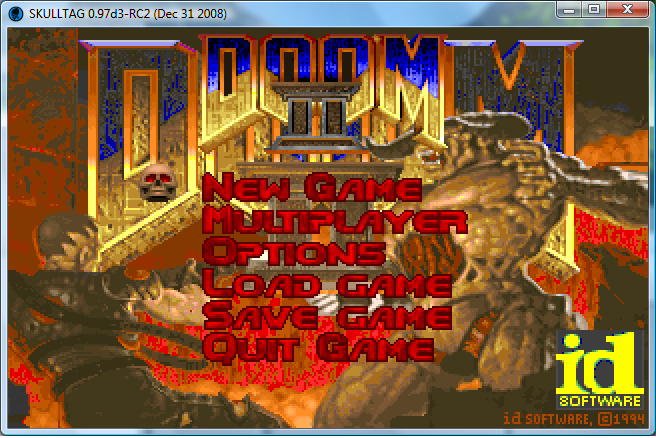 • After you hit that Play Skulltag, the game loads up in probably 5 to 10 seconds, bringing you here. If you remember most of the options, good. If you remember some of the options, good. If you don't know ANY of the options, i'll make a second post and talk about it. For the rest of you, Skulltag adds in a LOT of new features that weren't part of the original Doom2 game. In the next few screenies i'll just talk about the ones you need to get into the game. You won't need to go to Multiplayer (unless otherwise noted) at all to connect to Raie's server. You will be going to Options a lot, especially when tweaking your controls and settings.
• This what you'll see on Options. I'm going to cover four of these options now, and the rest later on in a future post. Go thru the rest of these instructions in whatever order you want.
• One of the first things i (eventually) had to change was the controls. Especially when i'm already used to Domo and WASD controls. On default, Doom2 follows the arrow key controls. PLEASE note that you should keep pressing the down arrow or scroll down to find even more controls, some of them related to gameplay and co-op gameplay.
Alternatively, you can also pull up the controls in-game by pressing F5 (i need to confirm this again, i'm mentioning this from memory)
• This is where things get fun. Or did get fun for me. More fun than sex? Yeah i don't know. Anyway, Video Mode lets you fix the stretching that you MIGHT encounter (whether or not you had Fullscreen checked on the Skulltag Welcome screen). You can choose between groups of modes or just list them all (Aspect Ratio, press left or right for groups, or keep pressing right until it shows all of them). Again, Rendering will be available for you in-game and you get to choose from old-school (software) to new tech (OpenGL). Fullscreen also comes back into play here too (but i need to test out if changing video modes in here will affect the Skulltag settings when you launch the program).
On the list of video modes itself (the sizes in pink), BE careful when choosing a mode. On the video sizes themselves, it's better to press T to test out THAT particular mode before selecting it. Otherwise, you're gonna get some of the upper half of the screen chopped off an you won't know how to get back there. Also, when viewing the entire list of video sizes, you will see something in grey / brown called
LB
. That's Doom2's / Skulltag's LetterBox mode. Fullscreen or not, you can use other modes and simulate a letterbox style, kinda like movies. You may need to play around with different sizes to get the personal size you want.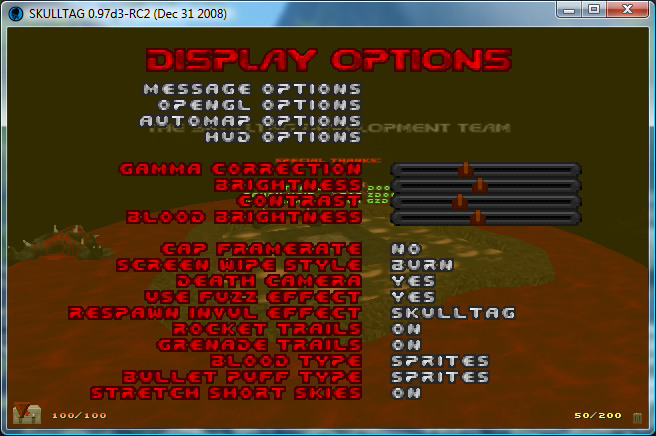 • You may or may not be needing to come here. But in the case that Doom2 is too dark, you can brighten up the screen. There's other options in here to consider too, but i'll look into it and get back to you on this.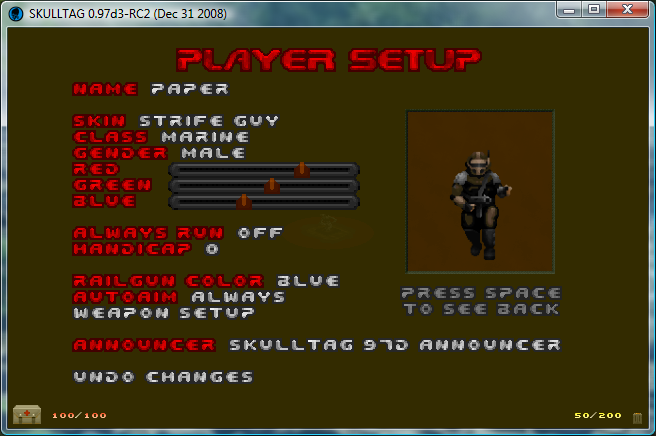 • If you jump into the game right now, you'll be identified as Player with a oh-so-generic playerskin to use. Come in here and you can change a few things about that, including your name, your player skin, and certain colors.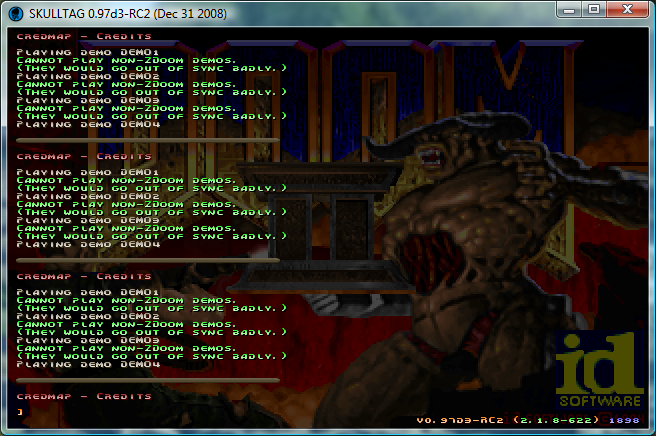 • Go back to Options, and select the last item on the list, Go To Console, and you'll come to this screen. If you've played other FPSes before, you'll recognize this type of screen. From here, this is where you'll need to fast-connect to Raie's server by typing in:
Code:

connect fierce.dynalias.net:10666
and it should connect you immediately to Raie.
The console also lets you use client-side commands, some of which Raie will be mentioning throughout the next few weeks. We were able to test out simple connectivity but since there's gonna be a lot of you from overseas, we should not have too many issues.
There is an alternative way to connecting, but typing out the code from the console seems much faster because the console is right on the way out from the Options menu. If you're in Window mode, and you don't mind clicking your way thru, i'll post instructions on how to connect to Raie's server using the alternate way.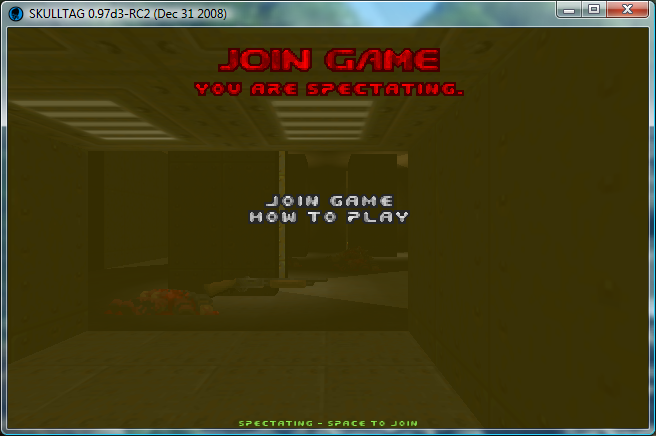 • By the time you get in, you can either watch as a Spectator (yeah woo invisible but you can't prod people) or you can get into the game. Press the Spacebar to get to this screen, and it'll show you the rules that Raie put up for the server. Join the game, to get right into the action.


Last edited by HouseApp on Sat Jan 31, 2009 3:36 pm; edited 1 time in total (Reason for editing : Added how to join into the actual game after connecting)